The function allows increasing the size of the encrypted Rohos disk. The latest Rohos Disk v1.16 is already available for download.
We also added an important command – the Force error checking on the disk without Windows restart.
You can also see in the new release:
Fixed: Disk auto mount by sticking up the USB flash drive (HKEY_LOCAL_MACHINE\SOFTWARE\Rohos\EnableAutoMountByUSB).
Disk-on Notifications (located nearby the Clock) becomes automatically disabled after being shown 20 times.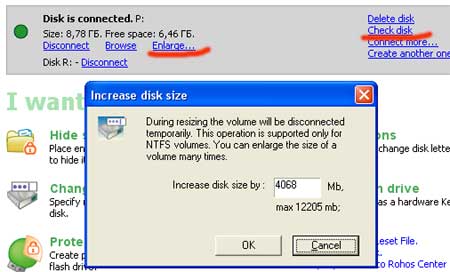 Something special in new increased Rohos Disk:
The disk can be increased if it was formatted in NTFS (all Rohos drives
have NTFS by default)
The disk, hidden in the AVI media file, can't be increased (see steganography feature)
Increasing operation is irreversible
The increasing can be done as many times as the host disk (where Rohos disk container turns up) has free space
Later the disk size can't be decreased
The button for the force error checking on the disk:
The checking is being carried out by the Windows (chkdsk.exe R: /F /X) right now. The disk is not turned off, but all the open files will be closed. It's very helpful, because if you assign the checking by the standard means, the checking will be delayed till the system rerun. Rohos disk is OFF at that moment, so the checking cannot be fulfilled.
The enlargement of the encrypted Rohos disk was successfully tested on 4 workstations and also by some of our testers.
We have noticed some errors in this function testing, for example the disk size is not enlarged, but tends to zero, or Windows warns that the disk recording was unsuccessful. In this case, you should run the command Disk checking. The disk is in NFTS, and the reclaim was fulfilled by 100%.
/1/wp-content/uploads/2016/06/rohos.png
0
0
Igor
/1/wp-content/uploads/2016/06/rohos.png
Igor
2007-04-30 03:44:02
2007-04-30 03:44:02
Increase in encrypted disk size – it's already available!