(updated)
Today we present Rohos Logon Key v1.4.1 for Mac OS X, with YubiKey support.
New features:
+ added Yubikey support
+ added separate uninstaller application
+ allows to customize text and images in locked screen (green key)
– fixed bug when using USB flash drives of the same model/manufacturer
* improved design for "Add USB Key" dialog box. Now Rohos Logon  does not display Apple USB devices without serial number.
Notes about Yubikey support:
– To use Yubikey as a security token for Mac, install Rohos Logon > open Prefecences and choose "Yubikey" in the drop-down list.
– For a while Rohos Logon doesn't verify OTP. See this notes. But we are already working on this solution.
– For the YubiKey we do recommend to clear "Activate password protected screensaver upon USB key removal…" option in preferences.
A few screenshots:

Select Yubikey for the Key device:

Choose Yubikey key:

Touch it: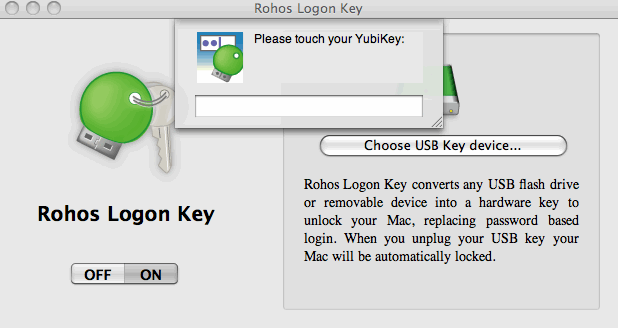 /1/wp-content/uploads/2016/06/rohos.png
0
0
Igor
/1/wp-content/uploads/2016/06/rohos.png
Igor
2008-10-31 02:23:18
2008-10-31 02:23:18
Rohos Logon Key for Mac. v.1.4.1